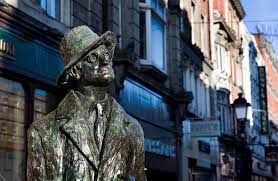 Celebrating Ulysses centenary in Paris
Published on : Friday, February 4, 2022
James Joyce's celebrated Ulysses was first published as a complete novel on 2 February 1922 – in Paris. One hundred years later, Tourism Ireland plans to take every opportunity to shine a spotlight on 'Ulysses 100' in its promotional activity around the world this year.
1 February, Tourism Ireland in France joined forces with the Centre Culturel Irlandais (Irish Cultural Centre) in Paris, to host an event for around 30 French cultural journalists, to celebrate the centenary. At the event, the journalists heard all about Joyce's masterpiece and how 2022 marks 100 years since its publication in the French capital. The event provided an excellent opportunity to highlight Dublin and our rich literary heritage to the influential journalists – who, in turn, will encourage their readers to visit Dublin and Ireland.
Tourism Ireland's aim is to encourage potential visitors to come and follow in the footsteps of Leopold Bloom, to discover Dublin and some of the city's cultural and architectural delights.
Monica MacLaverty, Tourism Ireland's Manager Southern Europe, said: "Tourism Ireland was delighted to partner with the Centre Culturel Irlandais in Paris to host this event. It was a great opportunity to celebrate the centenary of Joyce's Ulysses and to highlight Dublin and our literary heritage to the influential French cultural journalists in attendance. Tourism Ireland will continue to highlight Ulysses 100 here in France and in other key markets around the world – particularly to our important 'culturally curious' audience."
Related Posts
Tags: Tourism Ireland
© 2023, Admin. All rights reserved.