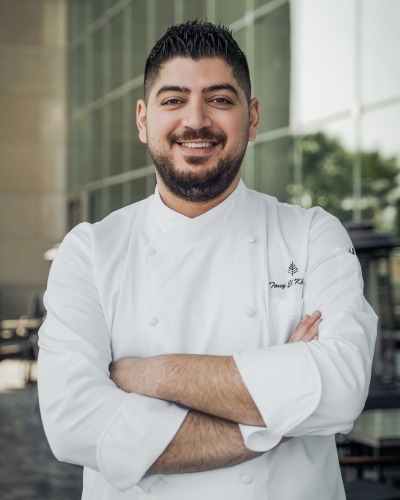 Four Seasons Hotel Bahrain Bay Launches First Arabic Pop-Up Event on the Beach
Published on : Friday, February 18, 2022
This February, Four Seasons Hotel Bahrain Bay launches its first-ever Arabic pop-up dining experience at the Beach Deck, serving as part of a new series of immersive culinary pop-up experiences that will spotlight various specialty chefs and international cuisines throughout the year. The first event of the series takes place from Tuesday, February 22, until Saturday, March 26, 2022, and is led by the Hotel's newly appointed Oriental Specialty Chef Tony El Khoury.
Upon their arrival to the Beach Deck, a tranquil beachside venue nestled in the heart of Bahrain Bay, guests will be ushered to their table overlooking the sea and a vast night sky towering above Manama's sparkling city lights. The beautifully transformed space embraces local Arabic heritage, while bringing guests a comfortable space to dine and lounge from sunset until late. An à la carte menu offers freshly prepared dishes complemented with a premium selection of Moroccan tea, Arabic coffee and Turkish coffee. The crafts team has further cultivated the imagery of Arabian heritage through redesigning the venue with traditional décor and contemporary touches. On Thursday and Friday evenings, the Beach Deck also offers DJ entertainment from 7:00 to 11:00 pm.
Born in Zahlé, Lebanon, Chef Tony has spent the last twelve years honing his culinary skills for various acclaimed restaurants in the Middle East, and now looks forward to further enhancing the commitment of Four Seasons Hotel Bahrain Bay to being the hotel of choice for the best Arabic cuisine in the kingdom – whether for offsite events or the much-anticipated Ramadan nights. Chef Tony's aim is to preserve the tradition of classic Arabic dishes while elevating them through the introduction of new techniques and flavours.
"I'm thrilled to be leading the oriental culinary team and offering Four Seasons guests exceptional experiences to be shared with family and friends. The Arabic pop-up menu offers a twist to traditional dishes such as chicken kale mushalla salad, waraq enab and fried halloumi sticks. By creating a fusion of spice-led dishes, with an emphasis on flavour, I look forward to offering an unforgettable evening for our diners," comments Chef Tony.
"The culinary pop-up series at the Beach Deck marks the first of one of our many new experiences our esteemed guests can look forward to this year," comments Regional Vice-President and General Manager Rami Sayess. "This event showcases the power of Four Seasons to transform any space and any moment into something truly extraordinary. Each pop-up event celebrates the diverse talents of our culinary team, introducing a variety of cuisines from around the world like never seen before."
Date: Tuesday, February 22 – Saturday, March 26, 2022 (closed on Sunday and Monday)
Time: 6:00 pm – 12:00 midnight
Reservations: 1711 5500 or diningreservations.bahrain@fourseasons.com
Related Posts
Tags: Four Seasons Hotel
© 2022, Admin. All rights reserved.