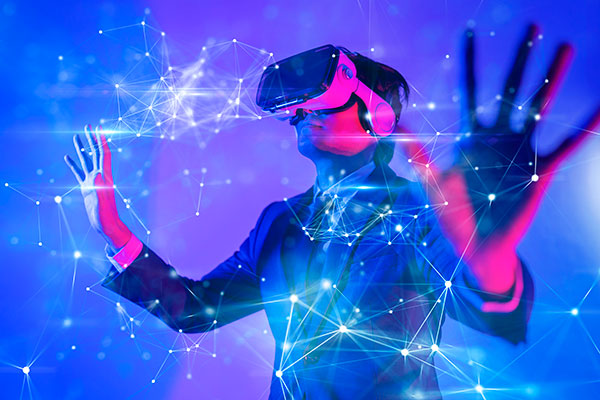 How Can XR Help Manufacturers in Digital Transformation?
For years, the manufacturing and industrial space have been looking for advanced ways to make their business process more efficient and boost collaboration across teams. From managing workflow, and optimizing cost-effective production, to enhancing employee efficiency, all these efforts indicate one thing: digital transformation. And how can digital transformation be possible without the involvement of advanced technologies like Extended Reality?
Even a few years back, the manufacturing and industrial space did not pay any attention to immersive technologies as the robust foundation of digital transformation. XR for digital transformation was then a distant dream. Companies considered Extended Reality part of the entertainment and gaming industry back then. However, it took little time for XR to demonstrate its value across sectors. Manufacturing and industrial space are now looking for a Mixed Reality company to help implement immersive technologies in their business operation. Many manufacturing companies have already invested in Virtual Reality, Augmented Reality development to make the digital transformation faster.
By unlocking Extended Reality powers, manufacturing companies can help their employees handle advanced tools and technologies. With XR, manufacturing companies can build more efficient processes for their teams while minimizing risks on the industrial floor. XR for digital transformationwill allow industrialists to accelerate time-to-market, improve product development, and attain new levels of collaboration.
XR for Digital Transformation: What is it?
Digital transformation is inevitable for all industries. Digital transformation is a process of organizational change that enables businesses to compete better in the digital economy. It encompasses a wide range of initiatives, including the adoption of new technologies, the redesign of business processes, the development of new business models, and the transformation of organizational culture.
If we go deeper into digital transformation, it is about more than just adopting new technologies. It's about using those technologies to change your company's business fundamentally. The question is not whether your company will undergo digital transformation but when. XR plays a critical role in that transformation.
XR is a set of technologies that allow users to interact with digital content more naturally and more immersively. It includes technologies like Virtual Reality (VR), Augmented Reality (AR), and Mixed Reality (MR).
Extended Reality is a technology that allows users to interact with digital content in a realistic and immersive way. The manufacturing industry can leverage XR for digital transformation. It will help them create prototypes of products, test new assembly methods, and train employees on new procedures. By using Extended Reality, manufacturers can reduce the need for physical prototypes and save time and money in product development.
XR for digital transformation will enable manufacturing companies to create new customer experiences, employee training programs, and product development processes. It can help you increase efficiency and collaboration and reduce costs. Ultimately, XR will help you stay ahead of the competition and position your company for long-term success in the digital age.
How XR is Aiding Manufacturers in Digital Transformation
Manufacturing companies can leverage XR for digital transformation in the following ways:
Fast Product Development
With XR, product prototyping becomes a piece of cake. The technology can accelerate the roadmap of product prototyping and development.
AR and VR in product development will generate a whopping $360 billion GDP by 2030. 
It certainly opens up new opportunities for manufacturing brands to revamp their product development process. VR in manufacturing allows organizations to create a comprehensive environment where design, development, and product testing teams can meet and share their ideas.
Automotive companies have already initiated implementing XR for digital transformation.
From experimenting with product materials to multiple designs, everything has become effortless. Extended Reality has enabled manufacturers cut off the physical product prototyping expenses and build endless prototypes virtually.
Insightful Training
Manufacturing companies must organize frequent training sessions on advanced technologies and equipment before implementation. XR offers interactive, three-dimensional, and virtual training space for employees. XR-driven virtual training allows employees and workers to learn about the new equipment without risking their lives. With XR, manufacturing training is no longer a time-consuming process.
Hassle-free Maintenance
Even a single tiny issue can throw the entire production cycle into chaos. Whenever any case pops up, it is crucial to access the maintenance team as soon as possible. Only they can help to get the production process on track. With the help of Extended Reality, teams can collaborate faster and reach out to the maintenance team, even at a remote location. The maintenance team can share their insight and feedback in no time.
Collaboration
Fascinating team collaboration is among the most intriguing benefits XR for digital transformation can deliver. It holds the potential to bring teams closer, boosting cooperation between them. Employees from different teams can meet virtually and share their views on a project, their work progress, and many more.
Final Words
To conclude, if manufacturing companies are looking for advanced ways to revamp their production and business process, manage workflow, and stay relevant in the market, they must consider XR for digital transformation. You can grow your in-house team of XR experts or reach out to a Mixed Reality company to help you. The choice is all yours.
Remember, With Extended Reality, teams can work together in a safe and aligned digital environment, speeding time to market. So, it is worth investing in.
Read More:- The educational metaverse boost learning and academic performance