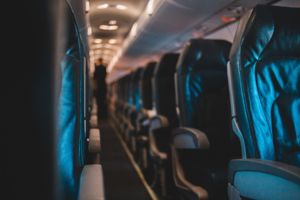 South Africa's newest airline LIFT joined forces with WTM Africa 2022
Published on : Monday, February 14, 2022
South Africa's newest airline, LIFT has joined forces with WTM Africa 2022, Africa's premier business-to-business travel and tourism event, which takes place from 11 to 13 April in the Host City of Cape Town.
LIFT, which prides itself on offering unique levels of flexibility to its customers, will be flying industry experts and speakers to the prestigious travel event. All invited WTM Africa exhibitors and attendees will receive a 10% discount when booking their flights with LIFT.
LIFT co-founder and CEO, Jonathan Ayache said that LIFT is proud to participate in World Travel Market's Africa Travel Week. While COVID-19 has disrupted the travel and tourism sector, there is an opportunity to deliver world-class experience and service to customers and rebuild their confidence to travel again. Over the last year, we've seen how resilient the travel industry is, and noteworthy events such as this one are key in imparting valuable insights that will allow our industry to thrive even during such uncertain times.
They are excited to be a key partner of WTMAfrica by flying in key industry speakers to address pertinent topics at this event. Being South Africa's newest and most flexible airline, WTM Africa is the perfect platform to showcase our exciting new product to the world.
Megan Oberholzer, Portfolio Director said that the Travel, Tourism and Creative Industries at RX Africa, says she's delighted to welcome Lift as WTM Africa's Aviation Partner for 2022. Africa Travel Week and LIFT share the same vision and optimism for the future of the travel and tourism industry in Africa. We want to bring people together to connect face-to-face and exchange ideas.
"We're grateful to be able to offer delegates and exhibitors discounted fares for travel thanks to LIFT. "We know the past two years have been tough on everyone in the tourism industry. It's great to be able to offer some discounts so that as many people as possible can attend our live event. Delegates won't be disappointed as WTM Africa will once again include all the highlights delegates have come to expect in previous events, including a robust speaker programme and associated events like International Business Market Africa, EQUAL Africa, Travel Forward, Sports and Events Tourism Exchange (SETE) and the Africa Tourism Investment Summit (ATIS)."
Related Posts
© 2022, Admin. All rights reserved.