The Size and Position of Storage Solutions Matter Even Laundry Room!
You can make any room functional by choosing the correct features for it. Certain corners demand sufficient storage space for everything. These include the kitchen and laundry room primarily. Of course, you also build cabinets and drawers in the bedroom, bathroom, and living room. However, these two specific corners deal with more small and big items than any other place. So, safety risks are high, requiring you to be extra careful. The choice of minor upgrades or details should only bother you a little. You can manage them anytime. For instance, think of adding an iron board or laundry basket. If you opt for custom designs, then it's a different thing.
Or you want to add a laundry room with sink. You need to get the right fixtures if there is a plumbing connection and a designated sink area. Otherwise, you would need to remodel your utility corner, which can be slightly expensive. You can understand from this that every detail matters regardless of the laundry room size. When discussing features, the laundry room needs to have proper storage systems to be functional and organized. If you know what type of cabinetry will work and where in this area, the rest of the renovation work will feel like a cakewalk. Let's figure out how to plan this specific feature well.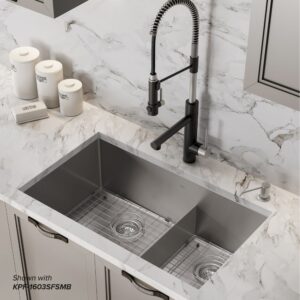 Laundry bench
Its height depends on factors like purpose, size, and shape. Do you need a bench for folding clothes and as an extra counter space? For this, you can build it 33-36 inches tall. It will allow you to iron and fold your garments comfortably. Some people add benches for seating purposes; in that case, they can be 18-20 inches high.
Laundry room cabinets
Some homeowners believe kitchen and laundry cabinets are the same because they store items while they are significantly distinctive. Kitchen storage systems can be laminate, composite, and wood materials to keep utensils and food. Cabinets in the utility room are usually plastic bases. They store cleaning clothes and other supplies. There can be a difference in their finishing as well. You can have painted or stained kitchen cabinets. On the other hand, the ones in the laundry room can be glossy surfaces, reducing your cleaning load. Plus, laundry room cabinets come with adjustable drawers and shelves, which can be missing in the kitchen area.
Clearance between cabinet and washer
The space between these two features depends on the room's layout, washer size, and cabinet type. A typical washing machine can be 27 inches wide, and smaller versions can be 22 inches. Depth can also vary from 24-30 inches or more. As for cabinets, custom designs need proper measurements to fit the washing machine. Choosing readymade designs can be convenient. According to designers, washers and cabinets should have a minimum of three feet of clearance between them. Also, small rooms can dedicate one corner to the washer. You can keep this appliance in the centerif it's a big room. It helps you use your machine effortlessly without any interference or discomfort.
Do you worry about the size of your utility area? You need a large room if you frequently deal with laundry piles. The space can accommodate a washer, dryer, countertop, and storage solutions hassle-free. In a small room, you can stack your washer and dryer on top of one another with the help of cabinets and shelves. One can easily fit their machines in 5 feet x 7 feet space. You can also build a countertop and storage if it is 8 feet x 10 feet.
When you put your washing machine in its place, leave around 1-inch clearance on the sides and top and 6 inches behind it. Your washer will operate smoothly without facing any difficulty from walls and cabinets. Manufacturer specifications also give you an idea of the appropriate distance between them. Specific models can have additional requirements. So it will be best to refer to the manuals. Another thing you need to follow is the placement of the washer on a leveled surface. Incline or decline can be damaging to the unit.
Countertops/ folding tables/ folding boards
This feature helps sort out, fold, and store your laundry. A 36-inch high countertop can be ergonomic. If you can afford only a smaller one, maintain the height at 34 inches for comfortable use. Adding racks to it can be helpful to separate damp clothes from the pile.
Some people also like the idea of a folding table. If you are DIYer, it can excite you too. You can measure the laundry room to understand the perfect table size and shape. While doing this, please look at the surrounding walls. You can include a foldable table that opens and closes in half based on your need and space. Visit any home improvement store for the materials or a prefabricated kit. If you wish to do everything yourself, it will be best to buy thin hardwood that you can cut easily per the specifications. You can give it a smooth finish by sanding the edges.
Another exciting feature can be about adding a folding board for shirts. People often inquire if they need this. The designers ask what you feel. You can benefit from this feature if you like to keep everything organized – well-folded shirts and other garments. You get these boards in accordion-style structure, which you can fold. It provides additional surfaces for your blankets, towels, shirts, and others. A few models contain drawers where you can keep folded clothes. You may want to consider its dimensions to decide whether your room can accommodate it. These folding boards can be 24 inches wide and 28 inches long to 60 inches wide and 40 inches long.
If you like more innovative products, look atcloth-folding machines these are growing in popularity for making your folding job easy and quick. They can be more expensive, though.
If you want to build a separate laundry room or renovate an existing one, these considerations can help you choose the best features for this place.
© 2023, John Sonron. All rights reserved.