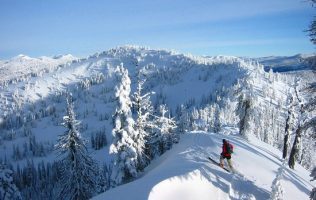 UK Weather: Britain set to be dusted in 14 cm of snow next Friday
Published on : Wednesday, February 2, 2022
Britain is set to be frosted over in sub-zero temperatures as Arctic winds bring snow to parts of the UK and chills of -9C. Friday February 11, many Britons will see a significant amount of snowfall, according to WX Charts, as residents in Scotland may experience up to 14cm of snow settling. Most of the UK will also be gripped in freezing temperatures nearing the weekend with some areas reaching -9C.
Next week, northern Scotland will reach -9C and could be buried in 14cm of snow, while Edinburgh will see 2cm of snowfall and a chill of -8.6C, meaning the snow will settle in the historic city.
As the temperature plunges in Scotland, Dublin is also forecast to expect a chilly -7C.
Meanwhile, Belfast will be just a bit colder with -7.5C. Those in England's capital should also expect to layer up on February 11 as London will experience -1.5C, according to the meteorological map.
The Met Office predicts this weekend will also see some snow and frost.
The national weather service wrote that winds and rain will spread south on Thursday, reaching the southeast in the evening. Cold, with wintry showers following, snow in the north and some overnight frost.
Looking out over the next two weeks, the Met Office predicted the UK will experience more unsettled weather.
It wrote: "Most places fairly cloudy on Sunday, and outbreaks of rain will move southeast through the day, with colder conditions to the north, and milder conditions to the south.
"It will be milder for many especially in the south of the country while brief colder incursions from the north are possible throughout the period."
Related Posts
Tags: snowfall, travel alert, UK, UK weather
© 2022, Admin. All rights reserved.
Originally posted 2022-02-02 12:22:36.