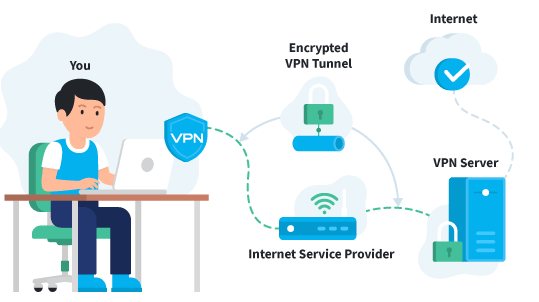 What is VPN and how does it works?
VPN (Virtual private network) is a network that helps us to protect our privacy. It hides our online identity and Stops people and systems from spying on us or stealing our digital data.
Whenever an online VPN provides your network total security and safety by hiding your data traffic. So in short, it will make a secure connection between you and the internet.
VPN will hide your IP address and location on the internet. So hackers and cybercriminals will not use our data for misuse. We will also be able to access the Blocked websites and services by using a VPN. If you want to know the list of free VPN google apps by which you can change your ip in 30+ countries with unique IPs. then here is a list check them out..
How does VPN Work?
When you will install a VPN on a computer or  device. So it will redirect your connection to a secured server and it encrypts the data which is inbound and outbound. Your internet data will go through your internet service provider but they no longer snoop because of encryption . The encrypted data will be decrypted by the VPN server. It will decrypt the data so you can actually understand and use it.
What is the purpose of a VPN?
Hiding your online activity is the main purpose of the VPN. Basically, VPNs are used to protect our data against hackers and snoops on public networks, but VPNs are also useful for hiding your IP address, online activity, location, and personal data. A VPN hides your location and encrypts your connection so that your data remains safe and secure. The more digital our life is, the more risk our privacy will be. So we use VPNs to protect our privacy.
If we use our own data ISP (Internet Service Provider) to visit malicious sites. then there is a high chance of our data is sold for some peace of money. HTTP sites have no SSL certificate which means any malicious hackers will gain the access to the system. If we register on this type of site it means our data is not safe. that's why we want to use a VPN for hiding our IP, Location, or any type of data.
Difference between paid VPN and Free VPN
| | |
| --- | --- |
| Paid VPN | Free VPN |
| 1. In paid VPN we get thousands servers | In the free VPN few servers are available. |
| 2. Unlimited data usage | Limited data usage |
| 3. High security level | Low security level |
| 4. Dedicated IP | No personal IP |
| 5. No show ads you can block ads | Show their ads |
Why we can't use a free VPN? What's wrong with them?
Data Collection​​
​​basically, when you use a VPN, to protect your privacy, location, and data online. Many free virtual private networks have claimed they will protect our data but they will collect your data. This data includes your all online activity like your passwords usernames etc. and they will sold your data to third party for some piece of money.
Use Limits
Many free VPNs only give you limited data usage with their services. It gives limited gigabytes and megabytes to use . So no matter the amount they will give limited data VPN gives you a taste of a private server and then takes it away.
Ads
When we use a free VPN then it will show us many ads because they will earn from these ads but in paid VPNs they will not show any ads.
Privacy
When you choose a free VPN, your privacy is at risk because Free VPNs collect your data and sell it to third parties for money. They will miss use our data for their purpose. Paid VPN service will gives you 100% privacy.
Internet Speed
Free VPNs Blocks your Bandwidths so it will slow your internet speed.If you have opted for a Paid VPN Service, you may never complain about the slower internet speed as it will not block your speed.
Best VPNs in 2022
Some best VPN services in 2022 are given below:
1. ExpressVPN
In our most recent round of VPN audits, ExpressVPN certainly shielded its spot as the best VPN available. What's more, when you take a gander at current realities, figures, details and client experience, it's very clear why.
First up, regardless of what gadget you're utilising – iPhone, Windows PC, Amazon Fire Stick, or even a switch – ExpressVPN is not difficult to download, good to check out, and very easy to make ready. While there's a ton of elements deep down, it's 100 percent fitting and-play, and ideal for VPN amateurs and specialists.
It likewise has every one of the extra highlights you would have zero desire to be without. That incorporates an entirely dependable off button to cut your association and stay away from spills assuming the VPN removes, split burrowing so you can course some applications through the VPN and whitelist others, in addition to DNS spill assurance, class-driving encryption, servers in 94 nations, and a strong zero-logging strategy.
ExpressVPN supplements its magnificent protection qualifications with incredible streaming execution, as well – something progressively significant in the present market. Contrasted with each other VPN we've tried, ExpressVPN unblocked the most Netflix areas, and furthermore conveys while real time BBC iPlayer, Amazon Prime Video, Hulu, Disney+ and some more.
This is considerably more amazing because of the reality Netflix has as of late taken action against VPNs, and keeping in mind that ExpressVPN was at first impacted, it's returned a lot quicker than some other help. Joined with extraordinary association speeds, it's the ideal streaming friend.
 2. SurfShark
Assuming that you're searching for outright value-for-money, British Virgin Island-put together Surfshark ought to accompany respect to your radar. At not exactly a large portion of the cost of a portion of its rivals while conveying similar executions in numerous regions, it's an incredible decision for those hoping to set aside their money.
Surfshark's applications are straightforward and successful, yet don't believe they're underpowered. While they can't exactly contend with the techiest of the bundle, you'll have an off button, more than 3,200 servers to pick from, split burrowing, and industry-standard AES-256 encryption.
Assuming that you have huge loads of gadgets to cover, Surfshark stands apart also. While ExpressVPN offers 5 synchronous associations and Nord offers 6, all Surfshark plans are totally limitless. That implies whether you have 5 or 105 gadgets you need to introduce a VPN on, one Surfshark plan can do everything.
Sadly, in any case, Surfshark has been hit by Netflix's progressions as well, and presently it's simply ready to unblock US Netflix – not UK, Canada, Australia or others. However, BBC iPlayer, Disney+, and tons of additional streaming locales are accessible. Speeds are likewise a little down on the opposition, yet except if you have a base association of over 400Mbps, you won't see any distinction.
Generally, Surfshark is a magnificent financial plan choice, and when you consider its extraordinarily low value, any little issues it has appear to disappear!
3. NordVPN
On the off chance that you've known about only one of the most incredible VPN suppliers on this page, being NordVPN possible. With a gigantic presence that incorporates YouTuber plugs, TV promotions and even games group sponsorships, it's an image that is not terrified of the spotlight. Fortunately, it's not all hot air, all things considered.
As perhaps the main VPN available with a possibility of testing ExpressVPN's strength, NordVPN is balanced and does a huge load of occupations well overall. With an off button, every one of the fundamental conventions in addition to the WireGuard-based NordLynx, amazing encryption and truly ranking association speeds, it's a thorough bundle.
Furthermore, P2P is upheld, and joined with additional protection highlights like Double Hop and Onion over VPN, it's an extraordinary decision for those hoping to remain unnoticed.
Note: We discussed the 3 best VPNs above but if you want to know more about VPN, Plans, Proxy, Country, IP and more then read our 6 best VPN blogs.
Conclusion
Great association speeds are staggeringly essential to VPN clients – assuming a VPN eases back your internet to a slither it's probably not going to be utilised consistently, leaving more gadgets unprotected. What's more, now that one of the most widely recognized uses for VPNs is streaming, having the option to stack HD and 4K substance without buffering is a higher priority than at any other time.
In our audit cycle we test each VPN administration on a 1Gbps line. We measure the rates with various devices, including the Ookla SpeedTest site and CLI, nPerf, Netflix's Fast and others. We then, at that point, take the normal (middle) of each apparatus' outcomes to produce an exact scope of rates. We rehash these tests morning and evening to guarantee precision.